Want to try out the fantastic new range of professional-grade natural cosmetics by Australian mineral makeup brand Alexami? Book a makeup party or any hair or makeup service with Teya May.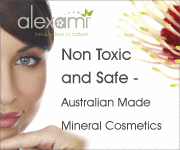 As a professional hair and makeup artist Teya May only uses the best quality products – that's why she exclusively uses Alexami's salon-grade natural mineral cosmetics and even featured in their series of Makeup Video Tutorials.
Alexami makeup products are not tested on animals, are environmentally friendly and are kind to your skin. Naturally preservative and irritant free, Alexami's pure mineral cosmetics are weightless, long wearing, water resistant and provide naturally high SPF 20+ UVA and UVB protection.
Alexami's mineral makeup also gives complete coverage without clogging pores, so is suitable for conditions such as acne prone skin, rosacea, and eczema.
Alexami Cosmetics are proudly VEGAN and CRUELTY FREE. This range of NON TOXIC and SAFE mineral cosmetics contain: